My Journey

---



I became interested in food while studying International Relations and Economics at the University of British Columbia. I was surprised to learn how much our food systems, heavily reliant on petroleum, underlie many of the challenges we face in our world today. As someone passionate about creating positive change in the world, I aspired to help others through a career in international food policy. At that point, I did not consider how my own diet, consisting mainly of processed foods, was contributing to very the environmental, social, and political problems I was so passionate to solve.
For the Love of Delicious

I accidentally discovered my love of delicious food while studying abroad in Lyon, France. I was captivated by French culinary culture and developed an appreciation for very, very delicious food. My love of delicious inspired me to begin experimenting in her kitchen with fresh ingredients from the marché, and I set out to sample as many wines, cheeses, and sugar-laden French pastries as possible.

Right: A picture of a French Bakery from my life in France. This is a typical display on most street corners.

For the Love of Community
Following my stay in the mecca of deliciousness, my interest in the socio-environmental impact of food led me to spend a month as a volunteer on organic farms in rural Turkey. I was profoundly impacted by my experience working with the land and the village people ~ who despite cultural and language differences, welcomed me into their community as one of their own. I saw first-hand how both conventional and organic farming methods affect peoples' lives who work in agriculture. These are often the monetarily poorer members of the world community. My love of community inspired me to make a personal commitment to become more conscious of how my everyday food and lifestyle choices impact people like me all around the world.

Left: With a family I worked with on an organic hazelnut farm near the Black Sea in Turkey.
For the Love of Health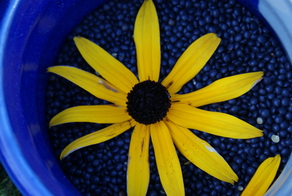 When I returned to Canada, I found my health in crisis. At 23 years old, when doctors told me there was nothing more they could do, I began a journey of holistic healing that included embracing a 100% organic whole foods lifestyle. During this time, I experienced many food-related challenges, including lifestyle transition and having severe food allergies to almost everything. As part of my healing journey, I decided to cultivate a Love for Healthy Food, inspired by the French standards of deliciousness.

After changing my diet, I experienced a profound change in my emotional and physical health. Many health concerns disappeared, I was better able to cope with stress, and felt more positive about life. I also accidentally discovered and developed a natural talent for flavour combining and making healthy food delicious. As I began to take responsibility for my own well-being, people started to ask about my secrets for GLOWing skin. They wanted to know how I managed to eat healthfully everyday, and to make it so delicious? They wanted to create change in their lives too.
---
For the Love of the Earth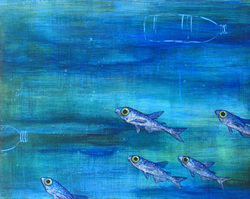 I began to see the power of being the change you desire to see in the world. When we make positive change in our own lives, we create positive change in the world around us. And, often others become inspired to change as well. The foundations for creating healthier people, a healthier environment, and a healthier global community are all the same. It starts with each of us as individuals taking care of our bodies and minds through proper nourishment from whole foods, conscious thinking, and positive lifestyle choices. When we take care of ourselves, we GLOW from the inside-out with more energy, positive feelings, and vibrant looking skin :-) Those same actions move us towards preserving the natural beauty and wisdom of the earth. When we GLOW, the world around us GLOWS.

Left: "Big-eyed lantern fish" by Robi Smith from
Blue Lantern Studio
in Vancouver, BC.
---
For the Love of Food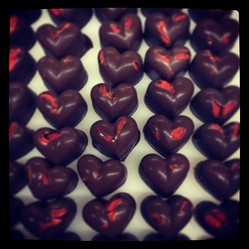 It was my LOVE of delicious food, communities, health, and the earth that inspired me to bring the For the Love of Food into the world. I believe that food is the nexus point for progressive change in all these areas. The For the Love of Food blog is dedicated to answering people's regular questions about how to Get the GLOW
and integrating wellness into everyday lifestyle while living deliciously.
GLOW Goodies and Chocolates
was simply created in the spirit of celebrating my love for food. I LOVE designing
life-changing
blow-your mind delicious
recipes that taste decadent and naughty yet leave you feeling energized, GLOWing and beautiful. I also want to provide opportunities for you to make choices everyday that contribute to a healthier planet and economy.
I also believe that one of the easiest and most impactful choices for our health, the planet and the society is to eliminate the consumption and use of refined and processed sugars and sweeteners. I want to provide you with
the most delicious and the most irresistible foods
that eliminate your cravings for refined sweeteners and foods from your life effortlessly and pleasurably.
I believe in PASSION, compassion and community - so I am also providing you with an opportunity to support sustainable organic farming and
other initiatives that are contributing to creating a more LOVING and sustainable world. Woo hoo! ;)
I source ingredients for
the GLOW product line that go
beyond organic:
the purchase of ingredients support the
preservation of the Amazonian rainforest
; support sustainable economic development in international communities in India, Uganda and South America, and
support local
organic farms and businesses in Vancouver and the province of British Columbia.
Click here
to read more about the inspiration behind GLOW Goodies and Chocolates.
---
Professional Bio

Julie is a culinary artiste based in Vancouver, BC, and is the founder and CEO of Julie Beyer's For the Love of Food Inc. She is the recipe creatress behind GLOW Goodies and Chocolate including GLOWBall Consciousness Truffles which have been featured on CTV BC news as one of Vancouver's Top 5 Christmas treats, on the Peak Radio station and were featured at TED Global's 30th Anniversary event in Vancouver, BC.

Recently Julie was nominated as one of Vancouver's most contributive business founders to Vancouver's unique high quality lifestyle for the Vancouver is Awesome's 'Vancouver Creatives' portfolio

competition

. Julie is an advocate for conscious business and entrepreneurship has been

featured as a business case study in the book "Small Business Big Change: A Microentrepreneur's Guide to Social Responsibility"; spoken on the topic of conscious and sustainable business at the UBC New Economy Summit and for The Institute of Holistic Nutrition. She

was also the winner and recipient of The First Canadian Barter Exchange's "Win Big for Your Small Biz" $18,000 in-kind grant.

Julie is passionate about inspiring people's to LIVE their true GLOW through conscious eating and living. She has been a recipe contributor to the IBS Cookbook for Dummies and has created a line of green stevia sweetened smoothies and raw desserts for the

Sweet Cherubim

restaurant on Vancouver's Commercial Drive.

Julie has been featured on and written for many online blogs, has presented healthy eating demonstration and has spoken on the topic of holistic nutrition, whole food plant-based lifestyle for: corporate groups, the BC Women's and Children's Hospital, Whole Foods, Conscious Living Radio, West Coast Mental Health Network, Vancouver Community College, Earthsave Canada, Friends for Life non-profit, and Rooted Nutrition cooking school. She has studied holistic nutrition at the Canadian School of Natural Nutrition, and holds a bachelor degree in Economics and International Relations from the University of British Columbia.

Connect with Us