Julie Beyer


.


---



Julie Beyer B.A., became interested in food while studying International Relations and Economics at the University of British Columbia. She was surprised to learn how much our food systems, heavily reliant on petroleum, underlie many of the challenges we face in our world today. As someone passionate about creating positive change in the world, Julie aspired to help others through a career in international food policy. At that point, she did not consider how her own diet consisting mainly of processed foods was contributing to very the environmental, social and political problems she was so passionate to solve.
For the Love of Delicious
Julie accidentally discovered her Love of Delicious Food, while studying abroad in Lyon, France. She was captivated by French culinary culture and developed an appreciation for very very delicious food. Her Love of Delicious inspired her to begin experimenting in her kitchen with fresh ingredients from the marche and set out to sample as many wines, cheeses, and sugar-laden French pastries as possible.

Right: A picture from Julie's life in France of a French Bakery. This is a typical display on most street corners.

For the Love of Community
Following her stay in the mecca of delicious, Julie's interest in the socio-environmental impact of food led her to spend one month as a volunteer on organic farms in rural Turkey. Julie was profoundly impacted by her experience of working with the land and the the village people ~ who despite cultural and language differences, welcomed her in their community as one of their own. She saw first-hand how both conventional and organic farming methods affect people's lives who work in agriculture. These are often the monetarily poorer members of the world community. Julie's Love of Community, inspired her to make a personal commitment to become more conscious of how her everyday food and lifestyle choices impacted people all around the world ~ who were just like her.

Left: Julie with a family she worked with on an organic hazlenut farm near the Black Sea in Turkey.
For the Love of Healthy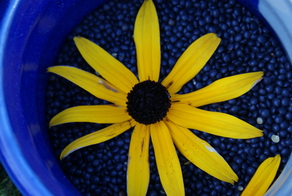 When Julie returned to Canada, she found her health in crisis. At 23 years old, when doctors told her there was nothing more they could do, she began a 4 year journey of holistic healing that included embracing a 100% organic whole foods lifestyle. During this time, she experienced many food-related challenges including lifestyle transition and having severe food allergies to almost everything. As part of her healing journey, Julie decided to cultivate a Love for Healthy Food, inspired by the French standards of delicious.

After changing her diet, she experienced a profound change in her emotional and physical health. Many health concerns disappeared, she was better able to cope with stress and felt more positive about life. Julie also discovered a natural talent for flavour combining and making healthy food delicious. As she began to take responsibility for her own wellbeing, people started to ask about her secrets for GLOWing skin. And how did she manage to eat healthfully everyday and how did she make it so delicious?

They wanted to create change in their lives too.
---
For the Love of the Earth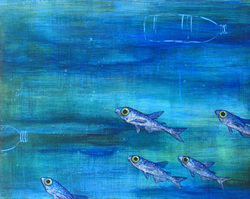 Julie began to see the power of being the change you desire to see in the world. When we make positive change in our own lives, we create positive change in the world around us. And often others become inspired to change. The foundations for creating healthier people, the environment and global community is all the same. It starts with each of us as individuals taking care of bodies and minds through proper nourishment from whole foods, conscious thinking, and positive lifestyle choices. When we take care of ourselves, we GLOW on the inside-out with more energy, positive feelings, and vibrant looking skin :-) Those same actions, move us towards preserving the natural beauty and wisdom of the earth. When we GLOW, the world around us GLOWS.

Left: "Big-eyed lantern fish" by Robi Smith from
Blue Lantern Studio
in Vancouver, BC.
---
For the Love of Food
It was Julie's LOVE of delicious, communities, health, and the earth that inspired her to found, For the Love of Food. For the Love of Food is dedicated to answering people's regular questions about how to Get the GLOW and integrate healthy into the everyday deliciously. Julie's goal is to discover and share an approach to a whole foods lifestylewhere optimal health meets sustainability, meets practicality, meets delicious ~ on par with the French of course :-). So you can Get the GLOW on the inside and out!


Right: Summer Quinoa Goddess Bowl
---
About Julie Beyer

After a four year healing journey, Julie is delighted to have successfully found her way back to wellness. Today she is a self-taught Holisitc Chef and Educator based in Vancouver, BC. Julie is a recipe contributor to the

IBS Cookbook for Dummies,

she has designed the first smoothie menu sweetened with green stevia for the

Sweet Cheribum

in Vancouver BC and is the creator of the

GLOW Collection

. She holds bachelor degrees in Economics and International Relations from the University of British Columbia. Julie is currently studying to become a Registered Holistic Nutritionist at the Canadian School of Natural Nutrition and has interned with

Julia O'Laughlin Registered Holisitc Nutrition Consulting

. To learn more about Julie, listen to her

interview on co-op radio

, and go to the March 20th 2011 episode.
Join the Journey to Get the GLOW with Everyday Healthy
Julie invites you to join her in her journey of discovering how to integrate healthy plant-based into the everyday with her 5 Secrets for Everyday Healthy. You can follow her through
Facebook
,
Twitter
and her
blog
for regular tips on how to
Get the GLOW
with the 5 Secrets for
Convenient
;
Quick
;
Easy
;
Delicious;
&
Affordable
to bring Everyday Healthy into your life. Julie is available to inspire and guide you on your path to delicious health through gluten-free whole, plant-based foods cooking & raw cuisine lifestyle classes. Please see her
Services
page for details.
Left: Brown Rice Pasta with Rosemary White Bean Sauce
---
"Julie is an amazing person and a fabulous instructor. She is passionate about food, teaching, and making sure you get the most out of her classes. She has put a lot of time and effort into ensuring that you get the best information and tips possible. I learned a tonne in her class, and can't wait to book my next one!"
~ Susanne Lee, Senior Business Strategy Advisor/ Independent Fashion Consultant & LOVES Family, Friends, Her Dog, Fashion, Travel, Great Food