What is a GLOWBall?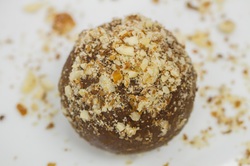 There's nothing else quite like a GLOWBall - this product is in a category all of its own! While it tastes like a chocolatey decadent 'naughty' dessert, from a nutritional perspective there is nothing dessert-like about it. GLOWBalls are totally free of chocolate and sweetened ONLY with BC grown all natural and zero calorie organic green stevia.
GLOWBall Consciousness Truffles have the same, if not more benefits than energy bars as they are made with fresh pressed coconut oil for quick burning fuel and have no added sugars, soy products or other additives. GLOWBalls Consciousness Truffles can eliminate sugar and sweet cravings and help you maintain a healthier diet and lifestyle without feeling like you are compromising. 
Not only are GLOWBalls totally FREE of sugar, dairy, gluten and soy they contain superfoods ingredients like maca, chia seeds, coconut oil and Brazil nuts (for selenium) that leave you well nourished and feeling energized and balanced - so can enjoy "dessert" everyday and GLOW.  With a blow-your mind delicious taste that wows, GLOWBalls are the 
NEW
 essential for everyday 
sinful health
.
---