Welcome to For the Love of Food's GLOW Goodies and Chocolates
Sugar Free ♥  Dairy Free ♥ Gluten Free ♥ Local & Raw Ingredients     
---
GLOW NEWS AND MEDIA
GLOWBall Consiousness Sugar FREE Truffles Featured at TED Global's 30th Anniversary!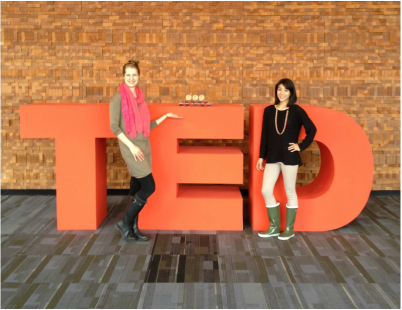 TED "GLOWBALL" 2014 IS GLOWING!
For the Love of Food is proud to have been selected as one of the local food sponsors for TED Global's 2014 30th year anniversary in Vancouver, BC Canada. 
(Yes those are our sugar-free Naked Coconut GLOWBall Consciousness Truffles on the TED sign - it's Ted GLOWBall ;-)!
What will drive the next 30 years?  I believe that getting back to the basics of nourishment with real whole foods, addressing our addiction to sugar/ processed and artifical sweeteners and bringing heart into business is paramount for our health and the survival of the planet. 
And a special thank you to our beloved coconut oil supplier 
Naked Coconuts
  for co-sponsoring! (Junie, marketer extraordinare for Naked Coconuts is in picture with me to the right :)
Bon Appetit and Happy 30th Anniversary TED 2014!
xo
---
GLOW Goodies and Chocolates Featured on The Peak 102.7 FM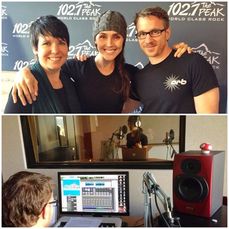 Erin Ireland, food reporter for CTVBC, and The Peak Radio featured our GLOW Goodies and Chocolates in her Valentine's Day foodie segment daily on The Peak 102.7 FM. She talked about all the benefits of GLOW ingredients and how delicious they are! We're thrilled word is getting out that sugar-free and healthy can be
blow your mind delicious.
Read More
-->
---
SUGAR-FREE "CHOCOLATE" TASTES GOOD!

"Peeps at CTVBC couldn't believe the amazingly delicious GLOWBalls were guilt and sugar free! So so good!!" 




- Erin Ireland | 

Food Reporter for  CTV & RUSH TV andOwner To Die For Banana BreadRead More -->

---

NO NEED TO COMPROMISE :ON PAR WITH CONVENTIONAL CHOCOLATE

"These healthy chocolates may convince you to swear off the real thing for life. That good."

- Erin Ireland | Food Reporter for  CTV & RUSH TV and

Owner 

To Die For Banana BreadRead More

--> 

---
---
GLOW BLOG REVIEWS AND INTERVIEWS 
A THE TRUE CONFESSIONS OF A GLOWBALL "CHOCOLATE" ADDICT: A TOUCHING STORY BY CHLOE ELGAR OF CHLOE'S COUNTERTOPHolistic Nutritionist, writer, and heart and soul behind Chloe's Countertop blog, Chloe Elgar shares GLOWing vulnerable insights on her journey of having an eating disorder and how GLOWBall Truffles helped re-ignite a Love of Food and "Chocolate"! 
Read More -->


---

A LIFESTYLE INTERVIEW  WITH JULIE BEYERBY JULIE PECARSKI OF EAT LIFE BALANCE
I was thrilled to be featured on Julie's blog! Aside from having a great name ;), Julie is super PASSIONATE about what she does and that INSPIRES me. We talk raw food, self care, holistic entrepreneurship and more. Julie P. posts tons of great recipes and articles about nutrition. Check her out :)Read More -->

---
Connect with Us