GLOW Goodies and Chocolates 
            Sugar Free ♥  Dairy Free ♥ Gluten Free ♥ Local & Raw Ingredients  
The Inspiration for GLOW
Food is my art.  
I am inspired by the simplicity of natural whole food ingredients
and 
I am in love with bringing together the science of nutrition with beautiful flavour synergies to create exceptionally delicious and nutritious recipes.
All the ingredients we use are certified organic, GMO free and we use no preservatives, soy, corn or dairy.  
Everything we make is pure and simple. 
I strive to create products and recipes that exceed your expectations and that will change your life after one bite.  I also create to nourish you with optimal nutrition that will leave you feeling energized physically, emotionally and mentally.
I carefully choose ingredients such as fresh pressed virgin coconut oil, maca and zeylanicum cinnamon that are rich in nutrition and provide essential nutrients for your skin, hormones and brain and that satiate you to assist you to maintain a healthy weight and allow your natural GLOW to shine.
I am particularly inspired by discovering ways to transform low glycemic sweeteners such as green stevia, mesquite and lucuma into blow your mind delicious "dessert" recipes so that
you can enjoy delicious sweetness everyday and feel and look your best.
Most of the sweetness in GLOW products is derived from all natural organic BC grown green stevia plant (
by Suede Hills Farm
) that contains zero calories and produces a sweet taste on the tongue 100x sweeter than sugar.  
GLOWBall Consciousness
 (
as seen on CTV
) is the first  product of its kind that we know of that uses ONLY green stevia (equivalent to eating a piece of lettuce) as a sweetener while providing exceptional taste that appeals to a wide variety of pallets.
I believe that real food is the nexus point for positive change in the areas of physical health, mental health, the environment,, sustainable economies, society and community .
I created my line of GLOW Goodies and Chocolates because
I believe that if there is
one thing I could do that would make the biggest difference in your life
...
....It would be to provide you with
the most delicious and the most irresistible foods
that would eliminate your cravings for refined sugar and other processed sweeteners from your life effortlessly and pleasurably. 
I also wanted to provide you with the opportunity to make positive change in the world easily by supporting sustainable organic farming and other initiatives that are contributing to creating a more sustainable GLOWing earth.

And most importantly, I wanted to provide you with a really really really good excuse to enjoy dessert everyday and feel good about it.
What are GLOW Goodies and Chocolates? 
GLOW Goodies and Chocolates are designed to
satisfy cravings for sugar, chocolate and desserts in the healthiest and naughtiest  tasting way. Our collection of treats provides you with chocolate and non-chocolate options that can often be enjoyed by people with food allergies, on cleanses, weight loss programs and/or sugar 
intolerances including those who have diabetes and Candida.
While GLOW Goodies and Chocolates taste like dessert, you can enjoy them guilt-
free because that are made only with 
organic whole food ingredients, that are dairy-free, (refined) sugar-free & gluten-free
and filled with nutritious superfoods that nourish your natural GLOW.
We believe in going above and beyond
, so we sprout (soak) all of our nuts to release their vital nutrients and improve their bioavailability. Nuts are then dehydrated at low temperatures to preserve nutrition and enzymes.
                                                                                                                                                                   GLOW Benefits
Ingredients have been carefully selected for their nutrient profile rich in beauty and stress reducing minerals and vitamins such as zinc, selenium and B vitamins for GLOWing skin and balanced emotions;
Many of our customers stop craving refined sweets and chocolates after incorporating GLOW Goodies and Chocolates into their diet and enjoy the taste of 'dessert' more often 
GLOW Sustainability
As much as possible I go
above and beyond
 organic and we source our ingredients as much as possible from local BC organic farms (including all of our hazelnut ingredients and green stevia), and projects that focus on preserving the environment and supporting the communities where our food is grown. Every time your purchase GLOW Goodies and Chocolates we are able to put more resources into projects that are raising 'GLOWBall Consciousness' with 
LOVE
. Please see our individual product pages to learn more about how our outstanding suppliers are going above and beyond for your health and the planet.
May you be inspired to LIVE your GLOW.
Bon Appétit,
xo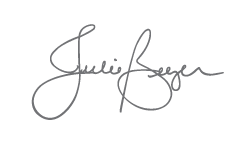 Julie Beyer
C.E.O and Founder 
"Canada is gaining equal footing to the states in terms of raw foods with For the Love of Food. The nutritional value in the products is almost unbelievable. Even the sweeteners are good for you!" 
- Shar Laderman, Registered Holistic Nutritionist and Owner at I LOVE Health

"GLOWBalls made with only green stevia satisfy my kids sweet tooth. As they are free of dairy, gluten and sugar, I can give my young children GLOW treats they love everyday! My lactose-sensitive daughter is happy to be able to eat 'chocolate' without it hurting her stomach. Thank you!" 
- Devina Singh, Holistic Therapist